Some of Susan's original oil paintings are now available as 5x7 art cards than can be used as stationary, or framed for the home or classroom.
Information about each image is available on the page where they can be ordered. TO ORDER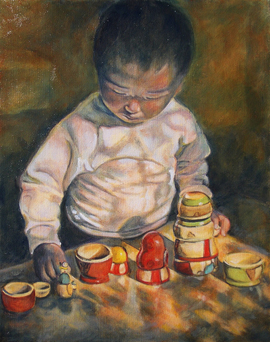 A thing of beauty is a joy forever: Its loveliness increases; it will never pass into nothingness.
—John Keats
It is only with the heart that one can see clearly.
—Antoine de Saint-Exupéry
Susan has studied art in some form or another since 1960. During her travels she sketches and photographs the people and scenes that inspire her the most, and upon her return combines them with her own memories, creating oil paintings in order to share her experiences with others. She haunts art museums wherever she goes, at times arranging travel around specific art shows, photographing with permission of the gallery at times. The museums where Susan has studied original works include those in Russia, Italy, France, Japan, the USA, and other places. Her work hangs in a variety of places such as Russia, Holland, Albania, Japan, Palestine, Australia, Thailand, Italy, Colombia, Sweden, Bhutan, the USA, and in the children's room on the Peace Boat.
Art Studies: Denison University, Indiana University, San Francisco State University, and private classes.
AVAILABLE FINE ART PRINTS
Two fine art prints are still available. Each print, and the certificate of authenticity, is individually published and signed. For more information on the history and production of giclée prints go to: giclée printing.
MUSIC: At the end of 2011, the Stephenson family created a Holiday song and slide show for family and friends.
It includes many photographs from Susan's work around the world,
including Montessori work in Bhutan, Holland, India, Israel, Nepal, Palestine, Russia,
Sikkim, Sweden, Thailand, Tibet and the USA.
It has ben shared by many people and is available to view on YouTube here: .
A Christmas Prayer for the Earth