SUSAN MAYCLIN STEPHENSON
Artist, Trinidad, California

The page with cards made from oil paintings,
and links for purchasing these works: ART
This art ready to ship. Please pay attention to description and sizes; even though the images below appear equal in size here they vary greatly. Colors on a computer or phone can appear brighter than with the original. To purchase a painting click on the "ART" link above and you will be directed to the Michael Olaf site to pay by credit card. For a piece shipped outside the USA you will be notified of the actual shipping and and insurance cost before your order is completed. If you selection has already been purchased you will be notified within 48 hours.
Thank you for purchasing my art. It support my work in the Montessori world.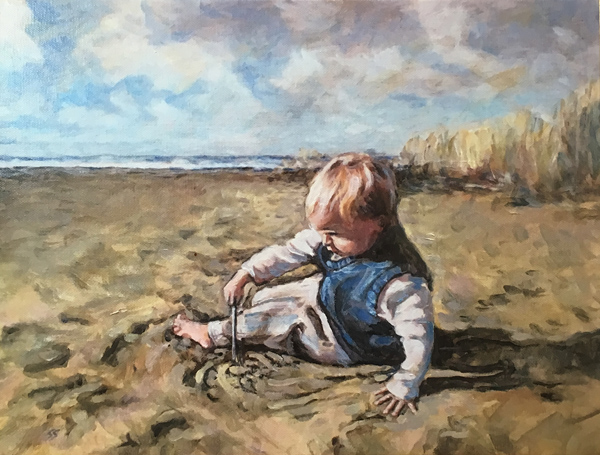 ART IN THE SAND
print on canvas, 16" x 12"—$80
purchase
––––––––––
The original oil painting from which this print was made is of our third grandchild, discovering drawing with a stick in the sand while visiting our beautiful Humboldt County, California beaches. This piece is printed on canvas, and ready to hang, or to be framed.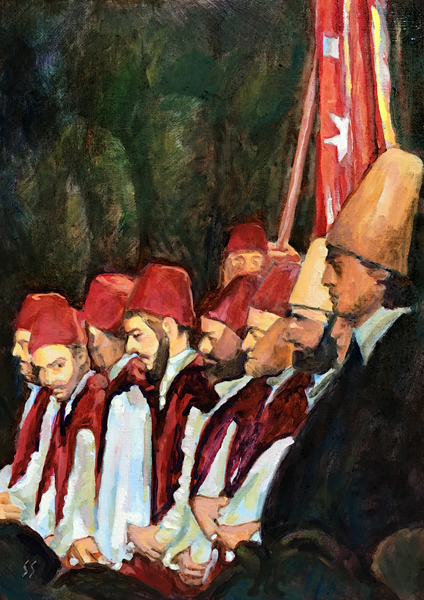 TEN PORTRAITS OF SUFI SINGERS
oil on linen, 11" x 14", unframed—$2000
purchase
––––––––––
While working in Morocco I was treated to a beautiful performance of Turkish Sufi dancers and singers out under the stars. My eyes were continually drawn to the religious passion shown on the faces of the singers on either side of the dancers. One portrait is a difficult undertaking; ten portraits a challenge that took years, and I feel that I have gotten to know a bit about each of thee men.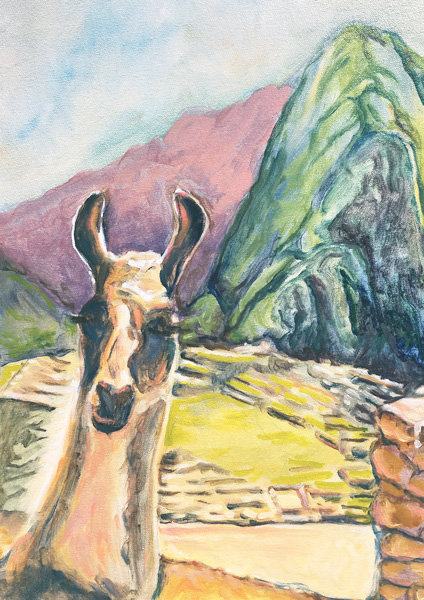 LLAMA AT MACHU PICCHU
oil on canvas with hanging wire, unframed, 14" x 18"—$600
purchase
––––––––––
There was a special moment as I climbed the stairs of the ancient Inca ruins of Machu Picchu in the Andean Mountains of Peru, when I could see no humans, just this Llama. For a moment I was transported to hundreds of years ago and could imagine what it felt like to live there. Machu Picchu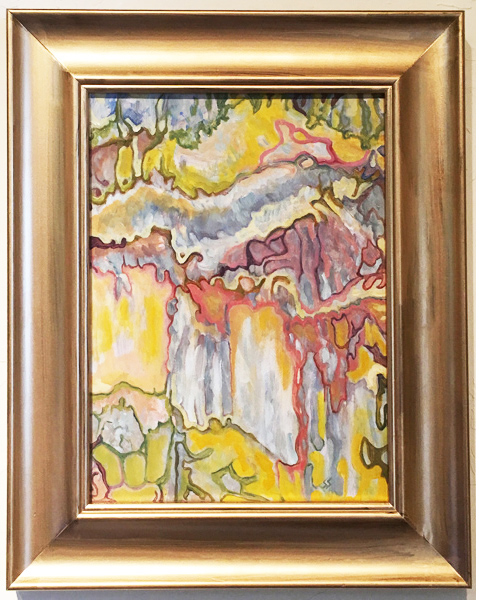 KUBOTA INSPIRED JAPANESE ABSTRACT
oil on board, gold frame, painting 9" x 12", frame 13' x 16"—$250
purchase
––––––––––
Visiting the Itchiku Kubota Art Museum in Kawaguchi-ko, Japan, I was inspired by the paintings on kimonos to create this abstract. Kubota (1917-2003) is considered the most important textile artist of the 20th century. Kubota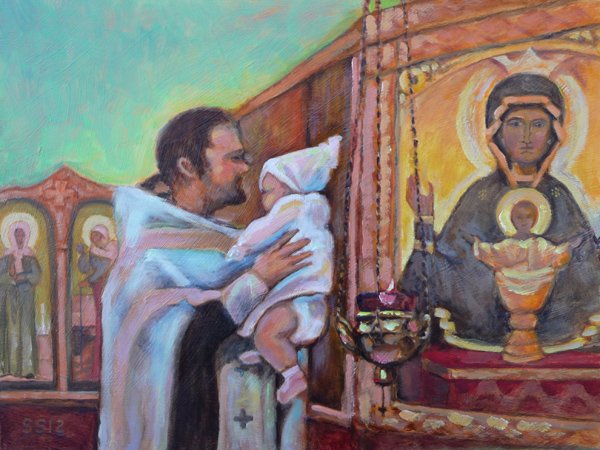 RUSSIAN BAPTISM
oil on board with hanging wire, unframed, 12" x 9"—$1200
purchase
––––––––––
While working in Russia I was taken to the village of Klin, the last home of the famous Russian composer Tchaikovsky. His home has become the official Tchaikovsky Museum. As we walked around the grounds my hostess and I hear singing and were invited to witness, in a small Russian Orthodox church, the baptism of several babies, each one taken around to kiss, be killed by?, the beautiful icons painted on the walls. Tchaikovsky in Klin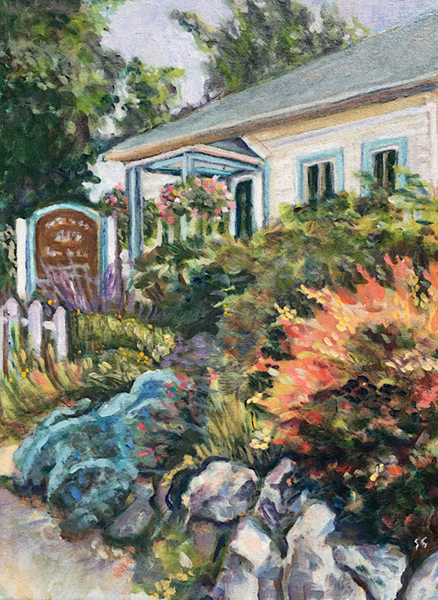 THE RIECKE HOUSE, TRINIDAD, CALIFORNIA
oil on canvas, gold frame. 11" x 14", frame 15.5" x 18.5"—$650
purchase
––––––––––
The famous Riecke House is one of two historical, surviving turn-of-the-century homes that still exist. Today it contains The Trinidad Art Gallery and great care if taken to keep both the building and the surrounding gardens in excellent condition. Thus the inspiration for this painting.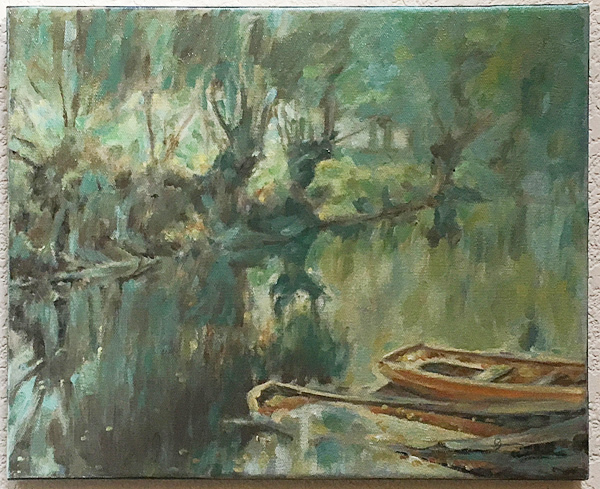 BOATS SINKING INTO THE SWAMP
oil on canvas with hanging wire, unframed, 14" x 11"—$200
purchase
––––––––––
During my classical oil painting studies, we worked on "studies" of copies of the artists of the past most successful in landscapes, still life, and portraits. This is an example of one of these studies, that I still do to learn more about color, composition, and brush strokes.

CAMEL DRIVER AT PETRA
oil on board with hanging wire, unframed, 9" x 12"—$500
purchase
––––––––––
While visiting the ancient ruins o Petra in Jordan I was inspired to paint the scene of this camel stopping for a break, squatting serenely on his heals which is a posture so common and healthy in the world. Petra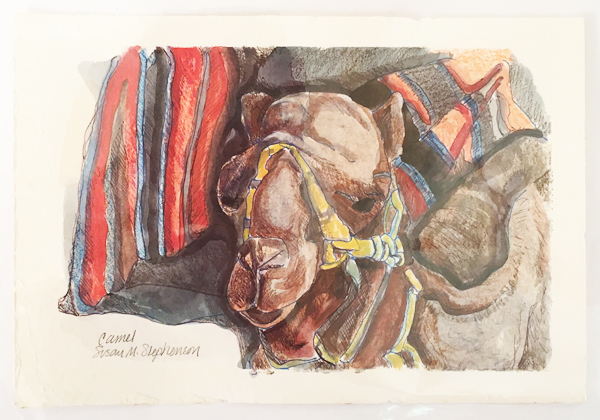 THE INSCRUTABLE CAMEL #1
mixed media on watercolor paper, image 8.5" x 7", paper 10" x 7"—$150
purchase
––––––––––
While working and traveling in Palestine and Morocco I have enjoyed looking in to the eyes and studying the facial expressions of these fascinating creatures. This piece was created with graphite, ink, watercolor, and colored pencil.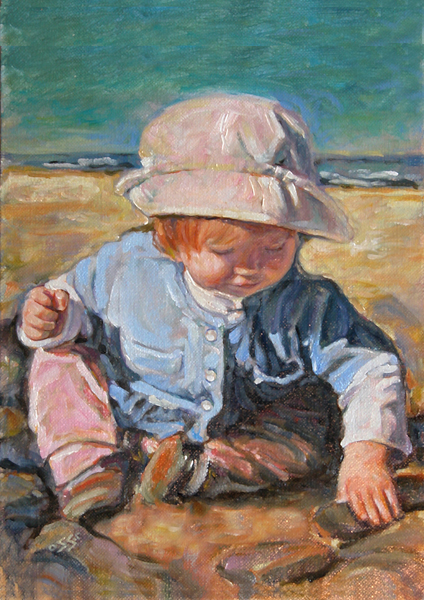 AT THE BEACH
print mounted on wooden block, 5" x 7"—$40
purchase
––––––––––
A local artist commissioned the original oil painting of his daughter. When I first saw the photograph in his studio it reminded me of the work of Mary Cassatt, so I painted two studies of her work to prepare for this one.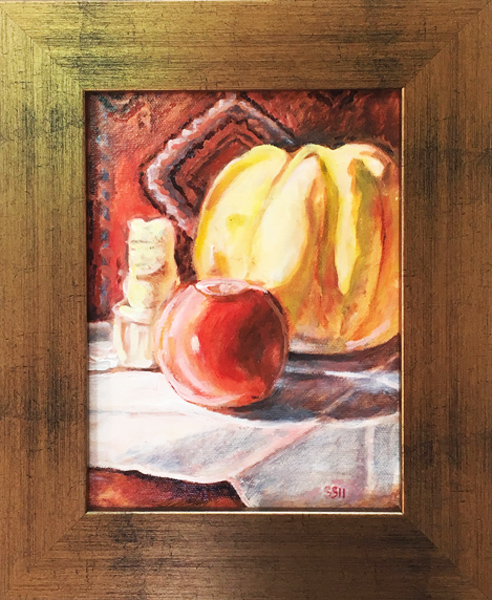 LEWIS CHESS PIECE WITH SQUASH AND APPLE
oil on canvas, stressed gold frame, painting 6" x 8", frame 9" x 11"—$250
purchase
––––––––––
Years ago I bought a beautiful chess set in Edinburgh, Scotland and incorporated one of the pieces in this still life with squash and apple. The Lewis chess pieces were discovered in 1921 on the island of Lewis in the Outer Hebrides. They were from the 12th century, cared from walrus ivory. Lewis
---
HOME PAGE