February 19, 2010
Narda and I have been in Paro Bhutan for a few hours now. We came from Thailand (via Portland, San Francisco, Seoul Korea, Singapore, and Bangladesh) where we were hosted, with beauty, gentleness and humor, by several of my students from the Montessori course in Thailand a few years ago.
Today we were joyfully met by an airport official who has a child in Dendy's school. He has met me on all three visits now. We went through the diplomat line since we are guests of the government.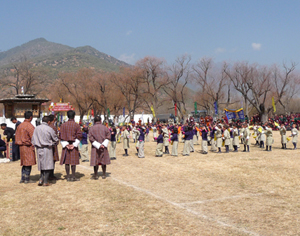 On the way home we stopped off at the grounds in front of the palace of the Queen Mother because the students of the school (which we came to help) were practicing their march-pass and dance and song to celebrate the 30th birthday of the 5th king the day after tomorrow.
Dendy wanted us to see this rehearsal of students from many schools in a large outdoor field with prayer flags waving, everyone in the national dress of the colors of their school. It was quite lovely, with the mountains in the background, the bright sun, and the sound of horns and drums and chanting as a puja was being celebrated not far from the marching grounds where we watched the children.

Click here for a short video clip of the children dancing: DANCE MOVIE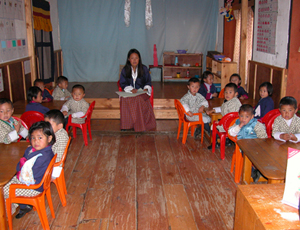 Here is a picture of the classroom we are going to help set up. This picture I took last year. "Montessori Before"

It is winter now, chilling cold at night but sunny and clear and fresh during the day. We came home and made up our beds with many blankets in two attic rooms and unpacked and organized. Then went to see the classroom where the Montessori class will begin.
Narda and I made a list of things to ask the woodworker to make, and of colors of paint to get for the walls. and materials that need to be repaired, and cloth to to cut and hem to make polishing cloths and dusting cloths and on and on. . .
Narda was very surprised at the primitive conditions of the building, the ancient school building made of thick pounded mud walls with one squat toilet for the whole school and only tables, plastic chairs and charts on the wall in all of the tiny classrooms.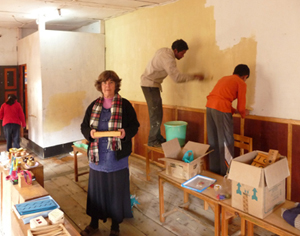 When we started sorting the old materials and painting the walls, even the children joined in.

In a few minutes we will go down to Paro town, when the neighbor gets home with a car we an borrow, and pick out material for Narda's national dress to be made. It is required to wear these for any official or professional work. Here is is the website to see pictures from the last two trips with many pictures of the national costumes: www.michaelolaf.net/bhutan.html

I am so happy to be in this place of laughter and spirit, and Narda is already discovering why I love it so much. I think she took 100 photos during the landing—many of the Himalayan Mountain range, Mt. Everest jutting into an unbelievable blue sky from a nest of white, white cumulus clouds. and then the foothills of pristine forests jotted by tiny traditional Bhutanese farm houses.

---
February 22, 2010
Today we saw yaks and more yaks; one was a baby. So as they became aware of our presence, so slowly it was almost impossible to see that they were moving, 4 large yaks surrounded the small one, their heads down, chewing grass as they instinctively formed a wall of protection against us as we stood at the bottom of their hill taking pictures.

It took 20 minutes just to get to the point where I could write an email this morning, and then the internet disconnected so this will be short.

THAILAND RETROSPECTIVE
In Thailand we visited the Montessori classes of two students from our Montessori course. I say "we" because this year I am traveling with my oldest daughter, Narda Sherman, who also has the AMI Montessori 0-3, 3-6, and 6-12 diplomas and is now a PA (Physician Associate) working for a little hospital in Guatemala. Hospitalito. Narda has lived in Africa, South America, and Europe and is her first trip to Asia.

The Thai teachers are doing their best, but in one class a different group of children come each day for 3 hours. So each child only gets 3 hours a week of Montessori. In another school the woman is developing, finally, the way to teach Thai with sandpaper letters and movable alphabet. It is a very difficult written language. For example one letter can have a special symbol before, after, above, and below in order for the person to know how to pronounce that particular letter.

BACK TO BHUTAN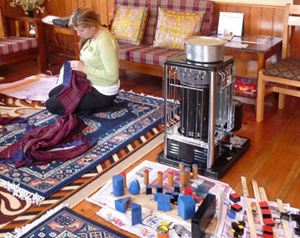 With the money earned by the children from Cobb school, a Montessori school in Connecticut, we have ordered the frames for dressing frames, the red rods, and several other materials to be made by an expert woodworker. Also tables and stools and a few cupboards of shelving for the materials. As I went around town yesterday to find basins and pitchers and cloth for montessori materials, Narda sanded and repainted the geometric solids and the cube of the binomial with Dendy's children. Today we drove 2 hours to the border of Bhutan and Tibet, to Haa, and brought back some small Tibetan carpets for the children to use as floor mats.

Narda had a bath finally today; an authentic Bhutanese "hot rock bath." We went to the old farmhouse of Dendy's mother and they had earlier placed a pile of rocks in a fire to get them very very hot. Then they build a temporarily wall, because of the western idea of nudity, out of plastic sheets and boards, around the sunken wooden tub that leaks. Then she soaked in the hot water, that was heated by placing the hot rocks in the water wit a long metal tongs. After Narda who was the guest, the other members of the family took their turn.


---
February 26, 2010
Here are the names of the family I have stayed with the last two trips, and where Narda and I are staying this year:

Chencho - dad, head of school, primary through high school
Dendy - mama, my student from the Montessori course in Thailand, head of the Montessori section
Kinley - son, age 12
Omo - daughter, age 10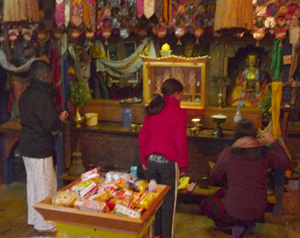 Two days ago was the first day of school for all but the Montessori section that begins next week. Dendy and I got up at 6 to go to the local temple, to follow the tradition of offerings and prayers for the first day of school. As we got in the car, Omo and Kinley came running out in their pajamas, shouting "We want to go, why didn't you wake us?" and went along in their pajamas and coats and scarves. There was snow on the mountains and this was one of the coldest mornings. But they did not want to stay in bed and miss offering prayers.

The temple contains the remains of a high lama from Tibet, Bechen. The woman opened the door for us and Kinley and Omo led me through the lighting of butter lamps, incense, and offerings. They they went through the traditional prostrations (bowing to the floor three times) and prayers with their mother. We placed money on the alter and then a little blessed water was poured into our hands from a traditional Tibetan brass water vessel with peacock feathers adorning the lid.
What I enjoy about the way religion is practiced here is that everyone seems to love to offer gifts and to pray for the health and happiness of others, (instead of asking for things) and that they worship with great joy and happiness, very naturally, with no coercion or guilt.

The car window had been frozen over at the beginning of this little journey so Dendy had melted it with a bucket of hot water, But as we came out of the temple it had frozen again with lovely Jack Frost patterns. We made it over the narrow rocky tracks by peeking through the lower corners of the windows.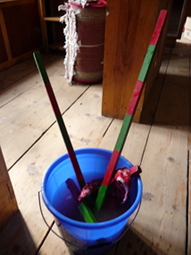 Narda and I have been hand sewing aprons made out of red and green plaid cloth of the outgrown Kira and Gho uniforms of Omo the Kinley. And hand sewing little plant dusting cloths from baby's diapers. We found a mixture of two old, skinny, hand-made number rods and I soaked them and scrubbed off the . . . I don't know what it is exactly but it looks like excrement from a small animal. Then we had one of the two "10's" cut down into a "9" and today will paint the red parts as we do not have green paint. And many more projects to help create the first real Montessori class in Bhutan.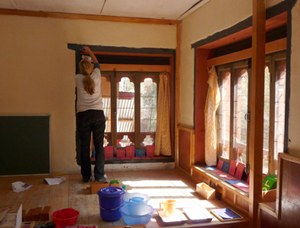 When the walls were painted and looked so nice Narda wanted to paint the traditional black parts around the windows and doors but we were informed that canned black paint would not work for the traditional black of Bhutanese architecture. With help we bought chunks of special mud that is soaked overnight and then mixed with a dry chemical. Like a black whitewash. The other teachers are looking in the windows and commenting about how beautiful this room is becoming. It is not at all beautiful by our Montessori Western standards, but is quite a change from the dreary and crowded tiny rooms where children sit on plastic chairs at large tables and recite from the charts on the wall.

Many of the new materials and furniture we are having made and the Tibetan carpets, large and small, that had been smuggled in via a road from Haa were paid for by the people who donated toward this work, and you know who you are. Thank you from us all.

We really messed up on the brown stair and it turned out really ugly, not only the color but the painting job (we needed better brushes). However, a neighbor who is good at many things took all 10 pieces to his home after we went to bed and worked till 2am soaking, washing, sanding, and repainting it. Then he dried it in his own living room because his little house is of the old style with thick mud walls and a wood heater, much warmer than the new house where we are staying. When we woke up there it was in the main room of our house, piled like a pink tower, to our great delight. We felt like we were living the story of the Elves and the Shoemaker.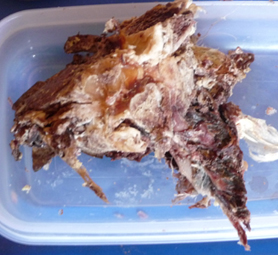 This is the traditional month of no meat to be sold which I, a vegetarian, love. However there is piece of meat on the counter in the kitchen. It is bone of a yak leg that has been dried in one of the old family farmhouses we visited in Haa (where we saw the yak herds of the family). Little pieces are cut into the daily dinner of the ubiquitous rice and curry (which is not curry but a stew of vegetables and cheese) served for breakfast, lunch and dinner.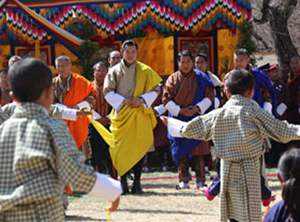 At the king's birthday celebration he loved the singing and dancing or our "Montessori" children and asked for them to repeat it. Well, this is the a picture of him with the children, the the yellow kabnay.

I have figured out a way to get to sleep at night. I hold my sock liners and socks in front of the tiny electric heater that can only be used for a few minutes and at the same time I sit on the foot end of the bed to warm it. Then I quickly put on the socks, turn off the heater, and jump into bed. When my feet are warm everything works and I can go to sleep, with my head covered up with the blanket.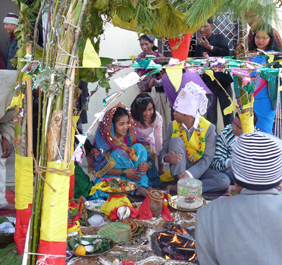 Yesterday we were in little Paro town (we and the school are up the hill in a village) running errands and heard lovely music. We followed the sounds and found a wedding going on. There was a tent roof with the branches of a pine tree below it forming a little house, with a fire and many colorful objects on a blanket under it. A man pulled me out of the crowd and invited us to be the honored quests and to sit in the front row of another tent for the onlookers, and be served sweet milk tea, special wedding rolls and Cadbury's milk chocolate candy with nuts. The music was eerily lovely and soon the bride was carried out of the building to the wedding ceremony tent ON THE BACK OF HER FATHER, HER FEET INCHES ABOVE THE GROUND. We had had to wait quite awhile for her to come out and were told that this is because she had to stop crying first. It was a Southern Bhutan family, Nepalis from generations back, a Hindu type wedding, where the bride must then leave her family and live in the home with the groom's family. IN BHUTAN Buddhist culture (not Nepali-Hindu) it is the opposite, the husband joins the wife's family.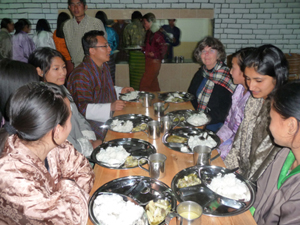 Last night was the first meal of the opening of the boarding school, 120 boarding students. We were invited to join them. I had a very good talk with the principle about the similarities between the Bhutan idea of GNH (gross national happiness) which is now being carried in to the educational system for the first time, and the results of Montessori children being allowed to concentrate/meditate/contemplate for long periods of time without interruption. He is coming to my last talk with the teachers about these things this afternoon.

Narda and I are able to experience these long periods of concentration as well as we spend hours and hours hand sewing and touch-up painting. It reminds me of the early days when I hand sewed the things for my own school in Michigan. Something has been lost, something very important has been lost, when teachers can just order everything on the internet. I know we say that we just don't have time, but I myself am sure to make time to watch unnecessary Netflix movies, and read unnecessary books about other people living and I just watch and live vicariously. I vow, as always, to carry some of what I learn each time I visit Bhutan about the meaning of life, and the way to create calm happiness in daily life, into my life after returning home. This happens every trip and even though I fall back into stupid habits, I hope that each time I get a little better.

Tomorrow we leave with the family for points east for three days. I hope to be able to write again before leaving for Thailand.

---
March 2, 2010

Well, Dendy's computer died and so I am at an Internet café, back in the corner where it is almost impossible to see the keyboard and no spell check, so please bear with me. This is the last email I shall be sending from Bhutan as we leave for Thailand the day after tomorrow early in the morning.

Last Friday Narda and I finished setting up the Montessori classroom, the tiny classroom. The teacher's meeting began in that room. As I have had many meetings with these teachers in my three trips here, and shown them videos, they immediately started "walking on the line" (made with green tape) as they had seen in the video and were charmed to recognize other things such as the pink tower (donated by Childpeace Montessori in Portland, hand carried on my last trip). Then we moved to another room with adult chairs and I showed them a video I had made of Montessori infant communities in Japan and Denver. (The Wonderful Two's) Remember, this was 4-7PM on Friday after the first full week of school and they were tired. But, sitting languidly in their chairs at the beginning they were soon sitting alert, and then leaning forward and laughing with joy as they watched these little 1-2 year-olds setting the table, making fruit salad, and comforting their friends—as they saw the potential of the child.

Early Saturday morning Narda and I left with the family for the East, well, really the center, of Bhutan. There is a monastery built by the Divine Madman, Drukpa Kunley, where people go to pray for all things connected with childbirth and children. Dendy and her family go every year to give thanks for their own children and this year they waited to take us along. From Paro to this part of Bhutan we passed from within sight of the snowy peaks and the tree line, through temperate and subtropical and tropical zones. From cold to heat with bananas growing at the lowest point.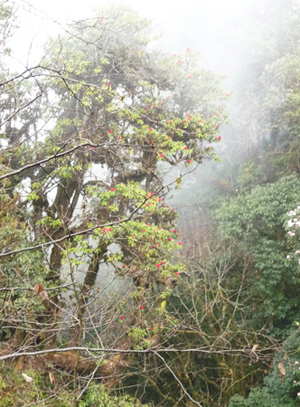 On the way we passed through the national forest of incredible rhododendrons, 40+ feet high with the native red "etho metho" rhodies already in bloom. The leaves of this variety are 10-20 inches long. Jim and I have 5 of them growing at our home in California.

One parks in the small village and walks about 20 minutes to get to the monastery. A road is being built which will take people much closer so after giving thanks Dendy and Omo and I decided to follow the road to see how finished it was. We got lost (no, the road is not finished) but had gone already to far to turn back so ended up climbing down over many rice fields. These terraced fields look lovely from above but now I know the walls surrounding each is 2-5 feet tall mud, packed with thorns. Imagine this "traditionally built" old lady climbing down over them and panting her way to the road with bloody proof of the thorns on her arms. Yes, I am old, 67 next October. But I loved every minute of it.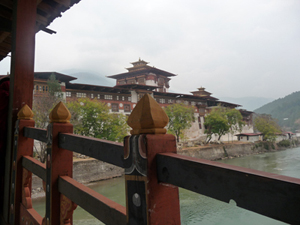 On the same trip we saw several dzongs, including the Punakha Dzong shown here.
Yesterday was the first day of the Montessori class. 15 children from almost 3 to almost 4 were signed up, but 5 tinies were crying for their older siblings so Dendy let them go to class with them. Leaving 10 for the class.
---
Return to the main Bhutan Home Page
---
Children here do not have toys and we didn't want a mad rush for the Montessori materials, nor did we want to set up a situation where children would do "wrong" things and have to be corrected, so even though the room is tiny (10' x 19'), we created a walled off entrance where the children gathered for a group of songs with the assistant, and stayed with with her while Dendy invited them one at a time, into the main classroom, to get out a table mat or floor mat, and choose something from the small bookcase of "toys" that can be used in any way, such as bead stringing and puzzles.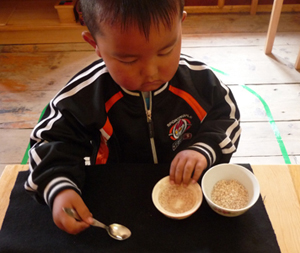 It really was amazing how they treated the classroom, perhaps because of their experience of behaving respectfully in a temple or dzong. They walked quietly and carefully and handled the materials with care. Soon there were 10 children working quietly and when finished returning the materials to the shelf and choosing something else. It helped a lot that the room is so small, there is no space for running. Soon it became apparent that they needed more so Dendy presented rice spooning and the lovely vocabulary cards the Julia at Maitri Learning sent with me last trip. They lined them up on the mats carefully and looked at each picture for a long time. All these thing so new and appreciated.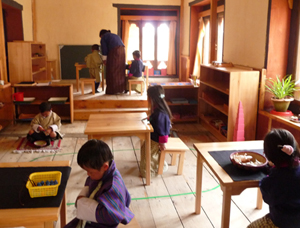 Today was the second day. It was the plan to keep the 5 youngest, who had been crying, with their siblings and bring them in gradually over the next week, but they all wanted to come today, so Dendy had 15! I didn't want to interfere, just observe and make helpful notes, so Dendy really had her hands full. This noon, as she drove me down to Paro Town to come to the Internet (and we had our twice daily meeting, usually at noon and after school in the classroom, in the car). I asked her if I was making too many suggestions. She said:

"NO! I was just talking to all the other primary teachers on the playground and telling them that is was amazing, 15 children sitting down and working happily and not being naughty. And I look into the other classrooms and see children being naughty and punished!" CLASSROOM MOVIE CLIP

This is all wonderful, but so sad that there can be only one very small class where Montessori is really working this year. I am helping the other teachers with ideas but they are going to have to wait to get good training to have what they see here happening in this magic classroom.

Narda (who is a PA, similar to an MD) treated a little boy who hurt his knee yesterday and saw the woeful condition of the first aid box, so she is going to buy what is needed to make it proper. Together we wrote a paper for the parents about the importance of nutrition and keeping children away from TV, and getting to bed early enough to have a calm morning with a good breakfast. It is so nice to be working with her.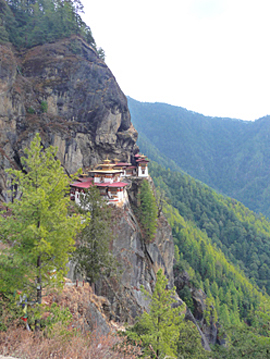 And now I will call the culture teacher who will pick me up and take me back to school. Narda left early to climb to the Tiger's Nest. Read all about it here: http://en.wikipedia.org/wiki/Paro_Taktsang


---
March 6, 2010 (Bhutan & Thailand)
Narda and I are now catching up on sleep, rest, familiar food, sleep, rest, in Thailand with Gunilla and Hakan Kolmodin whom I visited many times during the Montessori training course in Thailand where Gunilla and I were on the staff. We can see the mountains of Cambodia and the smoke from the burning fields as people prepare for the next planting of tapioca.

As in Bhutan, there is plenty of silence in the Thai countryside, or the natural sounds of crickets, birds, and geckoes. In these places, where one is allowed to sit still and think, instead of constantly being stimulated by the sounds of radio and TV and cars, and constantly rushing from one place to another (to get where? I ask myself) it is not even necessary to sit down and meditate every day, it comes naturally in the stillness.

I enjoyed the many good wishes (especially for warm feet) and little notes that many of you wrote in response to my emails, and hope you understood that there was just no time to answer. The last two trips to Bhutan I had time every evening to write in a journal and read a bit, but not this time. Up until the last minute before being picked up to go to the airport on Thursday morning I was finishing the last stitches of the first dressing frame, and Narda was finishing the very last of the vocabulary picture to be cut out and pasted, to be laminated after we leave.

I must say, not reading a few pages of a book before going to sleep at night is a very new experience for me and I have enjoyed it immensely! It makes me think that maybe I have stuffed more images and problems and scenes into brain before sleep, and maybe my brain has had to work on all that stuff each night before getting the real life problems to worked on. I am going to try to continue to do this at home.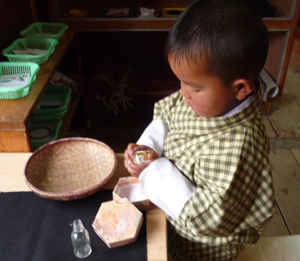 To all my Montessori friends reading this I would like to share a little bit about two children in the Montessori class: LCB and Deshen. "LCB" means "little chubbie boy" which is not an insult in Asia and which is how we referred to one of the children whose name is too long and complicated for us English speakers to use. Deshen is from the south of Bhutan and speaks neither English, nor Dzongkha, nor Hindi, but one of the 20+ other languages spoken in Bhutan.

On the first day LCB was pushing and pinching and slugging to get from the entrance to the main classroom to grab the toys. By the second session he realized that he would be allowed again and again to work in the main classroom with the toys and materials, but we realized that he thought they were his and was confused that other children also were allowed to play with them.
By the third session he had staked out his space on a table in the furthest corner of the classroom, and left his black felt table mat there the whole time, returning toys to the shelf after long periods of concentration. His favorite work was the Bhutanese woven basked of opening and closing containers so Narda and Dendy and I kept our eyes out for examples and added several interesting Bhutanese examples for him to work on. From a raging, angry child to a peaceful worker in three days.

Deshen sobbed. Imagine, being left by parents at a place where 100+ children are running and yelling and laughing and speaking languages unknown to him. And then being taken into a classroom where not even the adults can communicate, and not knowing if you would ever see your parents again. He cried and cried through the first Montessori session.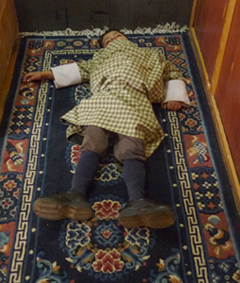 During the second day, sometimes quietly watching the others work, he fell asleep, crying, in the assistants arms and I told her to lay him down on the Tibetan rug in the book corner where he slept, wakening to tears again. At least he had had a little time in her lap to see that the other children seemed to be happy and having fun. At the beginning of third session he was willing to walk around the room with Dendy who offered him many items that he had seen other children work with.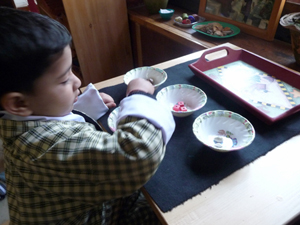 Finally he accepted the work where a child sorts three kinds of small items into three small bowls. He took the table mat to a table, and then the work, and then put the tray and bowls away, folded the table mat and put it away. Dendy thought this enough for a first success so invited him back to the entrance to be with the assistant looking at books. But no, he pointed to the vehicle cards, got out a floor mat and Dendy gave him a lesson. Then he took off working.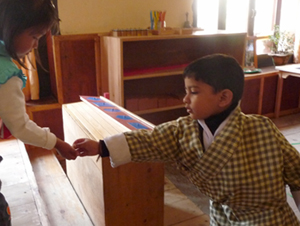 When a child dropped two beads from bead stringing on the floor Deshen was there to pick them up and give them back to the child. Then the same thing happened when a child accidentally left two puzzle pieces on the table, Deshen carried them to the child with a smile on his face. All this in three days.

These are the little miracles that keep me doing this work. The last day as the children ran up the driveway to meet their parents at the gate to go home, several of them turned toward me and waved goodbye with big smiles with love in their eyes. But it is not me they love, but the experience of learning in a way that respected their natural needs to be gracious and generous, and to concentrate on self-chosen projects and have their choices and their concentration protected and respected.

I hope you have enjoyed all these emails and look forward to seeing some of you somewhere, sometime on our planet.